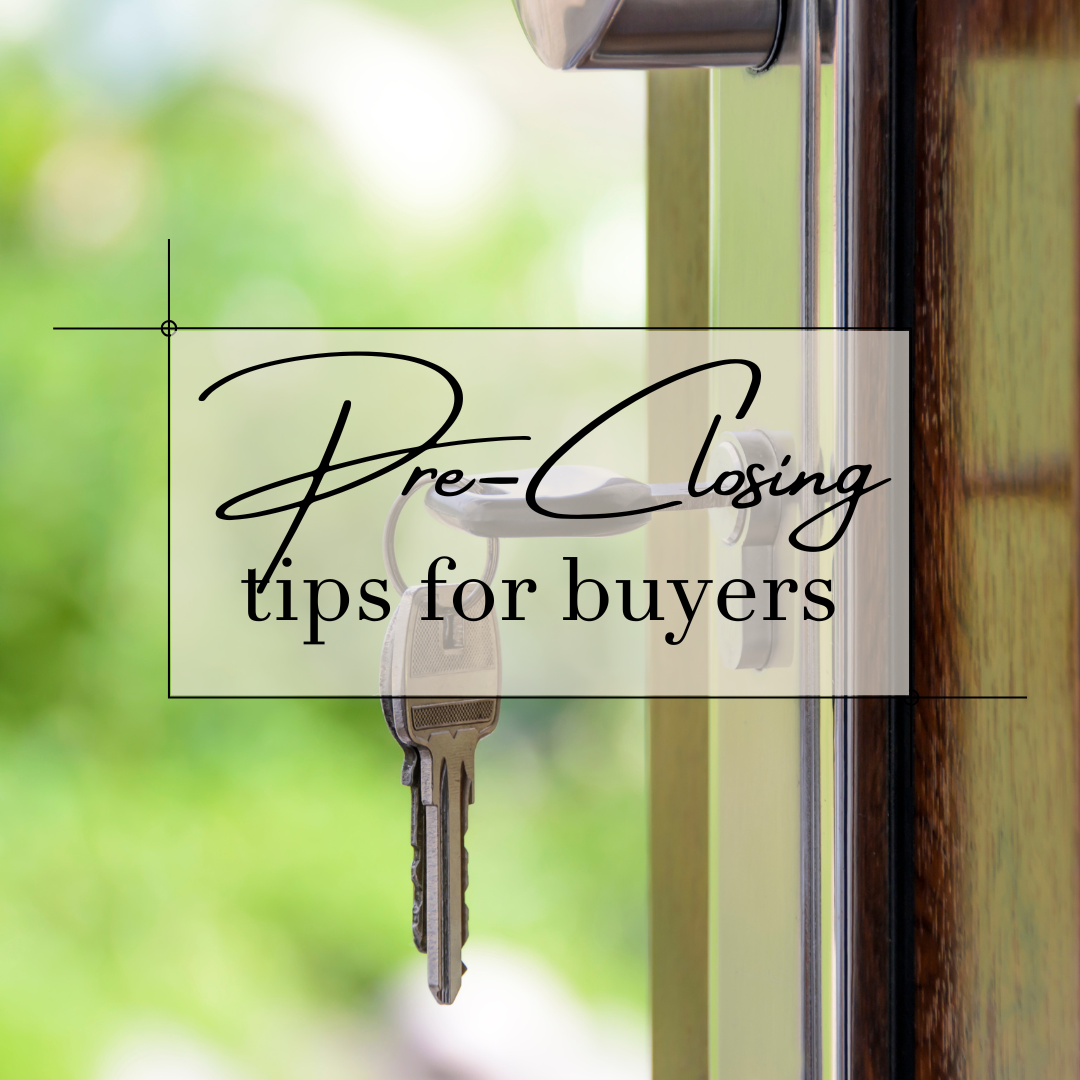 Love Buying a Home series – Week 12
This step-by-step series will take you through the entire home-buying process — from finding a buyer's agent to settlement day, and all the details in between. Every first-time buyer will find this information-packed series easy to follow and understand. Make sure to tune in for the next couple of weeks as we wrap up this series!

You don't want any surprises when you close on a home. As a buyer, ensuring a smooth transition to becoming a homeowner should be set in motion well before you sit down with the sellers that day.
Here's a handy breakdown with your pre-closing to-do's. That way you're all prepared for when your settlement day arrives.
About ten days from settlement, I'll be sending you a similar list of items and giving you a call to go through everything you need to do together so you don't miss a thing or feel overwhelmed about what needs to be done.
Check Off Pre-Closing Tasks
You're moving in to a new home so you want to make sure it's all ready for you and your family. Now is a good time to get certain appointments booked and accounts set up.
· Connect your utilities
— You don't want to move in without any power turned on! Get in touch with the electric company (such as Pepco or Dominion) to set up your new electric account. You can sometimes arrange a transfer prior to the sellers closing their account, and you will avoid a re-connect fee.
Depending on whether you have gas or if water is included in your condo fees, you may need to contact those services too. Again, this is something I'll determine for you and send you based on the home you purchase, so you don't have to figure it out on your own.
You'll want to set up all of your accounts to start on the day of your settlement, no later, even if you aren't moving in that day. The seller will be turning off all the utilities in their name as of the day of settlement, so to avoid any connectivity issues or fees, you need to put all the utilities in your name on the same day.
You can get cable and internet service at a later date (if you can survive for a bit!). However, you can schedule your appointments now for a convenient date so you have the ability to work and watch your favorite shows.
· Contact your insurance company
—Make sure you have your homeowners/hazard insurance starting on the date of settlement as well. Also be sure to send a copy of the policy to your lender. You pay for the first full year at settlement, so no need to pay anything prior.
· Consider a Home Warranty
—If you want to protect yourself in case anything goes wrong with your home, you do have the option of buying a home warranty. The idea is that if something breaks, you would call the home warranty company to repair or replace it.
Get Prepared for Closing Day
Typically you'll meet with your lawyer 1-2 weeks prior to your possession day. You want to make sure you have everything you need, including any necessary funds. Don't be rushing around at the last minute, so read over the list below carefully.
· What to bring to settlement meeting with your lawyer
— Bring your driver's license and a bank draft check made out to your laywer's firm for the rest of the down payment less the deposit you've already paid.
If you are moving funds around, please be aware that banks typically put at least a 3 day hold on large transfers. If you'd prefer to wire your funds directly to the lawyer, they will be in touch with me about how best to do that.
There as been major wire fraud issues recently and you NEVER want to wire funds after receiving wire instructions in an email.
Your lawyer will provide all of the other documentation that you will need to bring to your meeting. Reach out to them early for this list so that you can ensure you have everything you need ahead of time.
You will need to provide them with proof of insurance on your new home starting on your possession date. If you want to shop around for a good rate, make sure you give yourself time to do this!
·
Final walk-through
— We'll meet at your new home for the walk-through. This is usually scheduled just prior to the actual closing, up to 24 hours before. This is our opportunity to inspect the home and its condition right before taking ownership. It also enables us to confirm that any items that you and the seller have agreed to remain or convey are there.
This is an exciting time since you're almost in your new home. After these little details are done, you can put a big red check mark next to each item. That always feels so good. Then it's time to head to settlement!
The final article in the series is next week. (You'll also get a bonus one on maintaining your home for week 14.)
I hope you are starting to feel more knowledgable about everything that's involved with buying a home. And, remember, you'll have me on your side every step of the way so you never have to worry about forgetting something or having to figure it out on your own.
Stay tuned for next week's article --
How to Make Your Possesion Successful.