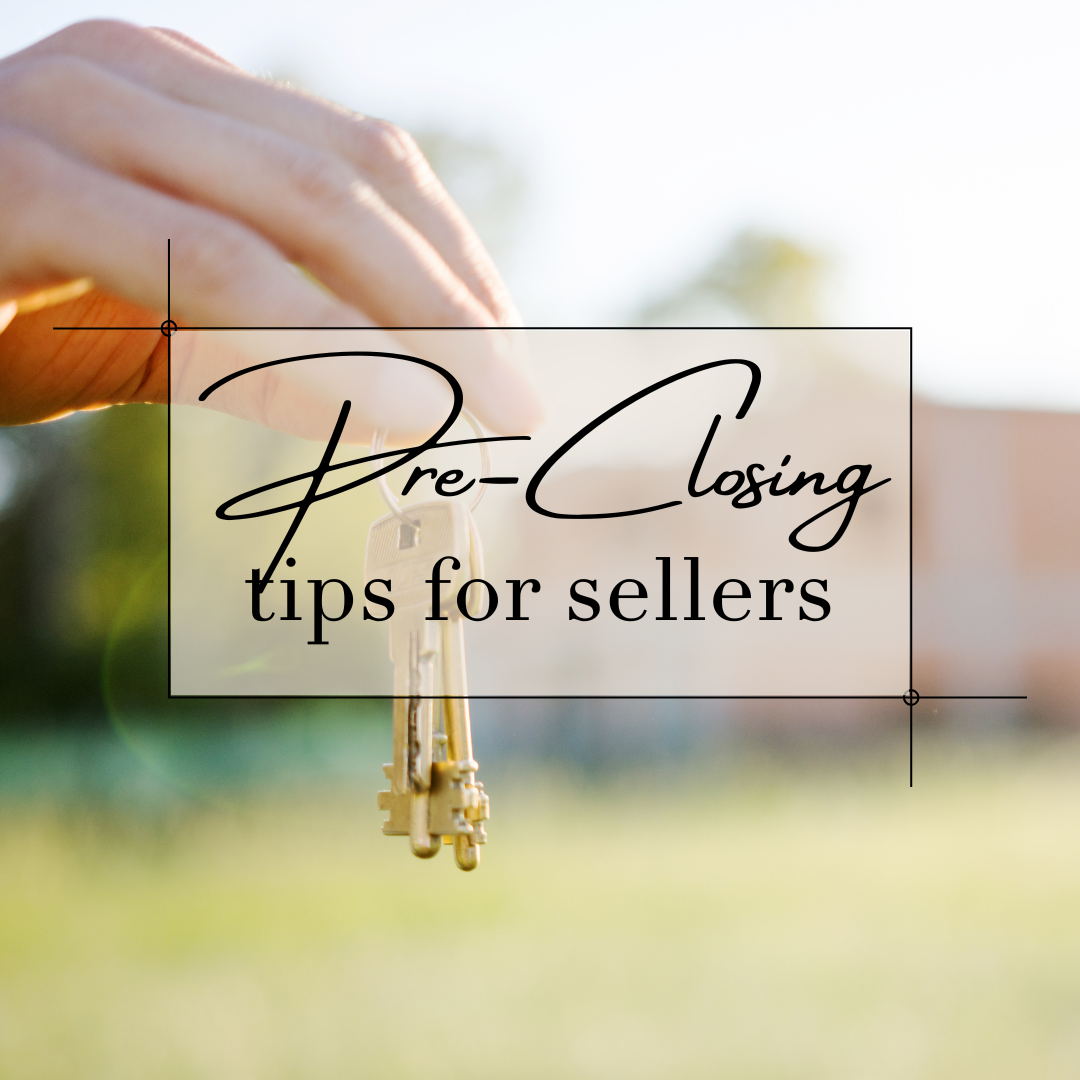 Love Selling Your Home Series: Pre-Closing Tasks When Selling Your Home
This series,

Love Selling Your Home: Minimize Your Stress, Maximize Your Profit,

is a step-by-step guide that covers everything you need to know to sell your home in today's market, from finding a real estate agent to all the way to settlement day.

You're now one step closer to officially selling your home. Even though you have a contract with buyers, you're not done yet.
There's a lot to get completed before closing day, and you might feel like your "to-do" list keeps growing and growing. And, you're right!
Keep in mind that no one wants the transaction to fall through or be delayed at this stage because of a mishap. Here's what you need to focus on:
What to Expect
Try not to be too distracted by moving logistics or good-bye parties. It's important to be very organized in the days leading up to your closing.
Make sure you focus on the things you need to get done in your home and also the items that need to be prepared for the actual settlement.
Most importantly, you don't want anything missing or forgotten, especially any important paperwork when you meet with the buyers to transfer your home to them.
Depending on your contract, you may or may not need to be out of your home by the agreed upon possession date. For example, some sellers may rent back from the buyers for a short period before they move.
You'll face three different steps in these pre-closing days –any home preparation or repairs completed by you, and the gathering and signing of any documents for the actual closing day.
Home Repairs
If there was an inspection done as part of your buyer's conditions then you may have agreed to some repairs depending on what was found during that inspection. Often, these repairs are completed after the condition period but before the possession date. If you have agreed to repairs, a receipt indicating that the repair was done will need to be provided to the buyers and your lawyer. Make sure you complete the repairs in accordance to what was agreed in the contract. If you don't the buyers may hold back funds from the sale price. Your agent will walk you through this to ensure this doesn't happen!
Preparing Your Home
It can be a whirlwind of activity in the final days of living in your home. However, you do want it ready for the new homeowners and not have any loose ends. You may be moving out … but they are moving in!
· Make any necessary repairs after the home inspection if agreed upon. Collect any receipts and information on this work to prove you have satisfied any inspection amendments.
· Disconnect the utilities on the possession date. You should schedule a final reading too.
· Contact your insurance company to insure you continue to have coverage on your current home and on your new home on the appropriate dates (a little overlap is always recommended- just in case).
· Set up mail forwarding with Canada post. Notify others of your change of address.
· Organize any information to pass on to the new owners about the home, such as appliance information (receipts and manuals); warranties; repair records for appliances, water heater, furnace, etc.; and any contractor dates of service. This is when your home maintenance manual comes in handy!
· Collect and label all keys to every door, any mailboxes, garages, outdoor shed, etc. Plan to bring them to settlement to hand over to the buyers.
· Make sure the house is in the same level of cleanliness as when the buyers originally viewed it. Usually, the buyers will complete a walk-thru 12-24 hours before the possession day 
Your lawyer will go over everything you need to have done and bring on settlement day.

· Bring information about where you'd like your proceeds from the sale to be sent.
· Confirm they have all the necessary documents and they will be ready to be signed by the settlement date. If they haven't proactively updated you, make a call to confirm they have received all necessary documents so there are no surprises on that day.
· Now is the time to discuss any concerns with your agent if you anticipate any disputes. Don't wait for the actual day, but rather anticipate during these pre-closing days to settle any concerns.

As your agent, my job is to keep you on track and make sure you know what to do when, so nothing falls through the cracks. That's my responsibility as your agent, not yours! Just know if we work together to sell your home, I have a system that ensures you know what you need to do when and even how to do it. I leave nothing to chance and do as much as I can to make sure this part of the under-contract phase goes as smoothly as possible for you.
You just learned that you'll be busy with many pre-closing details, which includes moving too. That's why the next article is perfect -- Get Organized for the Big Move & Beyond. Here's the help you need in order to say "goodbye" to your old home and say "hello" to your new one!