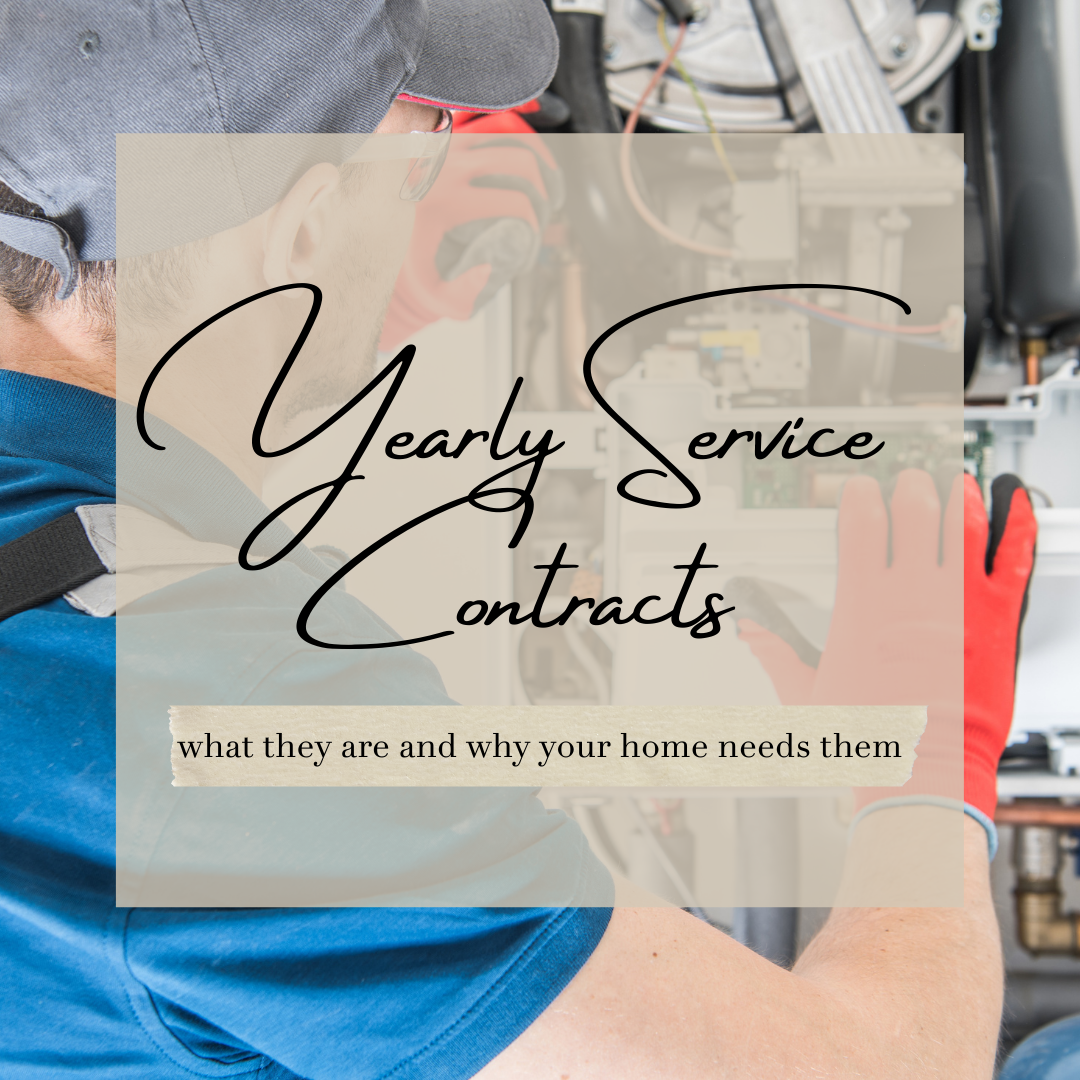 With busy schedules, it's easy to let regular home maintenance fall off your to-do list.
Like many homeowners, you might try to cram certain projects into one weekend. Or worse yet, disaster strikes and you get hit with a large bill since you never got around to a minor task that turned into a major issue.
Stop causing yourself so much stress! Let the professionals help you, and better yet, have a maintenance plan with them.
Why It's Worth the $$
There are three yearly professional service contracts you should sign up for once you move into your home – HVAC (Heating & A/C), a chimney sweep,  and tree maintenance.

Having each of these set up on a yearly maintenance plan will keep you on schedule with the appropriate level of maintenance year round. You will be assured that a professional will use their expertise to monitor each of these so that you can avoid preventable SNAFUS or serious problems later on.
At first glance, it seems like a lot of money to spend every year for maybe nothing that needs to be repaired. However, the upfront costs will be well worth it in the long run, helping you avoid more costly damage to your home and unnecessary distress and disruptions for your family.
Please take the time and do your homework when it comes to hiring any business. You want a reputable, reliable and trust-worthy company that services your home properly and doesn't overcharge or suggest unneeded repairs.
HVAC (Heating/Cooling) System
This is the biggie for most homeowners. Your heating and cooling system affects your day-to-day life all year long, and you want it running smoothly and efficiently.
No one wants to come home to no heat on a frigid January night, or have their air conditioning unit break down during the hottest week of August! A service plan could help prevent that.
Here's what to expect:
A service plan with a professional HVAC company will ensure that your system is serviced at least once a year, but likely twice a year if you have an A/C unit as well. It's best done at the change of seasons- spring for your a/c and fall for your furnace. 
A technician will test, inspect, and clean as necessary to make sure all is safe and functioning properly.
These maintenance visits are scheduled usually in the early fall and the spring, before your system needs to really crank out the heat or air conditioning. They will contact you to set up an appointment so it stays on your to-do list.
The cost of a service plan is typically less expensive if you scheduled two separate visits without a contract. And, again, you won't have to remember to call them, since they'll call you if you are on the yearly maintenance plan.
Some also provide discounts on parts and future replacements. Always check your contract carefully.
You'll get scheduling priority when something does go wrong! This is extremely helpful during the holidays or weekends.
Chimney Sweep (not just for fireplaces)
This task is definitely not a DIY one since it can be dangerous and dirty!
Cleaning and inspecting your chimney requires a certified chimney sweep whose expertise will help prevent your fireplace from experiencing any combustion issues or creosote buildup that could cause a fire in your home.
And just because you don't cozy up to a fire, doesn't mean you can skip this one! Some homes have a chimney to vent its gas heater or gas water heater.
You should have your chimney inspected and cleaned at least once a year, more if you use it often. This is critical before you begin using your fireplace for the season!
A chimney sweep will clean the fireplace, check the firebox, liners, smoke chambers and flue, and the chimney's exterior. They have the equipment and the expertise to do this efficiently and safely (and without a mess!).
Service contracts could also include wood-burning stoves.
A sweep will make sure that birds and other critters haven't set up a nest that can block the chimney. Plus, leaves and other debris can collect and obstruct the chimney.
If your chimney needs repairs, the company can handle this too.
Again, you can develop a relationship with a certain company or technician who knows your home and chimney.
Even if you don't have a fireplace, some homes have a chimney that is used to vent your gas heat and/or your gas water heater. Double check your home's set up.
As you can see, investing in service contracts upfront will make your life easier as a homeowner. Your home is being monitored and serviced on a regular basis, helping to avoid more costly and preventable damage later on.
Tree Maintenance
If you live in a community to with large, mature tree's it's a good idea to have them professionally trimmed once a year or every other year. Dead branches or large branches in close proximity to your home can do major damage if they fall on to your roof, come through a window or down a power line! Calgary is no stranger to high winds which increases the risk for the types of accidents. Some trees have softer bark than others so if you're not sure about a particular tree or a branch, its best to call in the pro's.
Proper tree maintenance is also important to maintain the health and aesthetic of your trees and can impact your curb appeal if they don't look healthy! Trimming your trees or bushes also has the added benefit can also help to improving the light in your home.
Here's what to expect:
It's often best to take care of you trees before or during at change of season- particualary the fall or spring.
Most local arborists offer consultation services if your not sure what you need exactly, which also could include disease and insect analysis. They also offer tree pruning and removal services.
If you think you just need to prune trees the arborist will do one or a combination of the following (provided by aspentreeservice.ca):
• Crown clearing
Also known as deadwood clearing, this pruning method involves the removal of dead, infected and broken parts of the tree. This is the most basic pruning method.
• Crown thinning
This is done to thin out the branches of the tree so that more sunlight and air can pass through the tree. It reduces the weight of the tree and also helps in maintaining its shape.
• Crown raising
With this pruning method, the lower branches of the tree are removed so that vertical clearance can be achieved. It can be done on a single portion of the crown or on the entire lower region as per requirements.
• Crown reduction
This pruning method helps in protecting buildings from tree branches that have grown and are now at risk. Such branches can fall off and damage properties and injure people during heavy winds or storms.
BONUS:
This isn't an annual service contract perse, but it is important! Calgary sewer systems are prone to issues with tree roots growing into them and causing breaks or blockages. If you've noticed a change in your water drainage a blocked pipe may be the problem. Companies like Calgary Sewer Scope can inspect your sewer pipes and let you know if there are any roots blocking your pipes. It can be worth doing this proactively to insure a root doesn't get so large that it causes MAJOR damage. Sometimes, if the problem is close to, or on the City's part of the sewer line (not your property), they will come to auger the sewer line to remove the blockage for free. If you're thinking about purchasing a home in the future, it can be beneficial to add a "sewer scope" condition to your purchase contract!
Email me
if you have any questions about service contracts or want any recommendations!